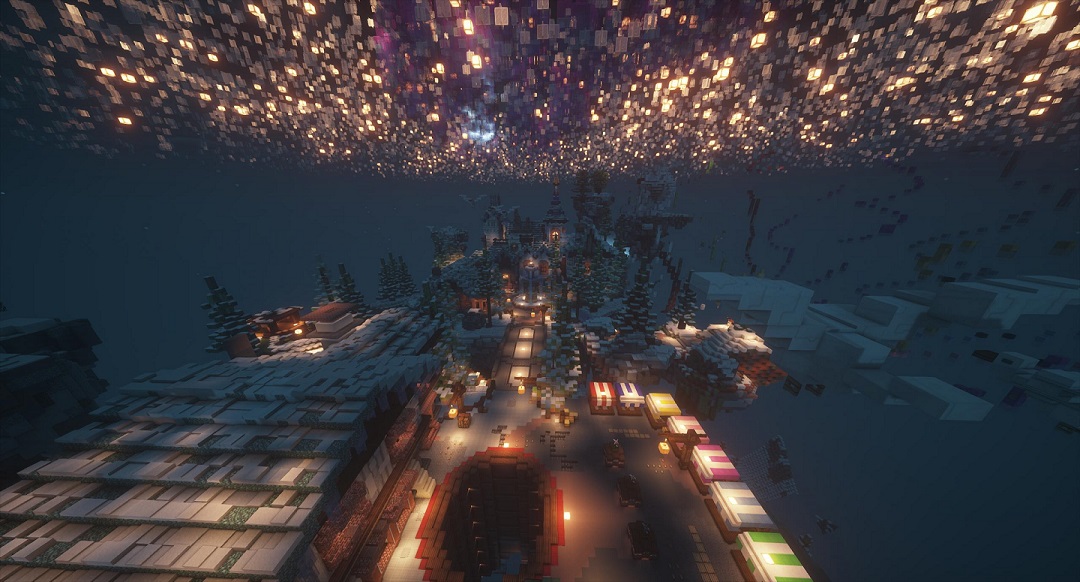 EVERGREEN SKYBLOCK RELEASE @ SATURDAY 2PM EST
CLICK HERE - Countdown
Hey everyone! On behalf of the OPB Team we are excited to release the newest version of Skyblock! This content packed update will keep you playing for hours on end and give you that extra push to get Island Top! We have spent many sleepless nights brainstorming and taking in your ideas and suggestions to produce this update. We wanted to thank you, the community, for giving us so much important feedback, and for being patient with us while the developers were hard at work making this awesome new season!
Now... lets get to the brand new features!
NOTE: There are previews throughout the thread, they are yellow and are links - click on them!
EXTRA NOTE: All values shown in previews are subject to change!
━━━━━━━━━━━━━━━━━━━━━━━━━━━━━━━━━━━━━━━━━━━━━━━━━━━━━
Servant Revamp
We have taken the community's advice on servants and decided to revamp them completely!
With a brand new upgrade system and user friendly GUI, these servants are decades ahead of the last ones.
Types
There are two types of servants: Miner and Slayer!
Both of these types have 3 different tiers. The higher the tier, the higher the upgrade limit is!
The tiers go as follow: Tier 1, Tier 2, and Tier 3. 1 being the worst and 3 being the best.
Functionality
Servants are quite different compared to last season as said before, so I'll break them down:
•
Main GUI:
You can use the command /servants to view all of your Servants and open their individual GUIs
•
Collecting: Servants now have a tidy collection system, just open the GUI and you can view the materials it has collected! Either click on the materials to claim them or click the "Collect All" option
•
Moving:
Moving the Servant is as simple as clicking "Pickup Servant" in the GUI and placing the egg in the new location
•
Layout:
Servants now have a preferred layout - to check their preferred layout, click the "Layout" option in the GUI; make sure to make the layout perfect or else precious materials will be lost!
•
Renaming:
You can rename Servants! Simply click the "Rename" option in the GUI and type the name in chat
•
Direction:
Want your Servant to look at something? Just click the "Rotate Servant" option in the GUI and face the way you want it to!
Servant GUI and Collecting Preview
That is pretty much it! Upgrading is a bit more complicated, so refer to the section below.
Upgrading
Upgrading servants now uses a new unique system. To obtain upgrades, you get them from our brand new Upgrades Crate which is obtainable through the blackmarket and other sources. Upgrades are in item form, and to apply them to the servant simply right click the servant with the upgrade in hand (You can also open the GUI and click on the stat you want to upgrade)! As said in the "Types" section, the upgrade limit is dependent on the tier of the servant.
Servant Upgrading Preview
Obtaining
Don't worry! You still get
1 free servant
once you complete basic missions just like last season!
To get more servants, you still obtain them from the servant crate key, which can be purchased on
store.opblocks.com
!
━━━━━━━━━━━━━━━━━━━━━━━━━━━━━━━━━━━━━━━━━━━━━━━━━━━━━
Mob Armor
We wanted to touch a bit into PvP this update and came up with this spicy armor set system!
Introducing... Mob Armor - this brand new collection of armor each have their own special abilities depending on the mob you choose to represent!
With 7 different sets to collect, each with a unique ability and effects, choose the best one to fit your fighting style!
To obtain these sets, you need to collect the infused skulls respective to each mob set. For example, Infused Creeper Skulls are used to craft Creeper Amor. Obtaining infused skulls is as simple as killing the respective mob. Each individual armor piece costs 30 infused skulls.
Mob Amor Preview
━━━━━━━━━━━━━━━━━━━━━━━━━━━━━━━━━━━━━━━━━━━━━━━━━━━━━
Island Prestige
To players that want to go that extra mile and grind to have the best island ever, this update is for you!
Introducing Island Prestiging... a brand new way to get extra OP upgrades for you and your island members!
In order to prestige, you must
max all your available upgrades
in /is upgrades, then use the command
/is prestige
to prestige your island!
Island Prestige Preview
━━━━━━━━━━━━━━━━━━━━━━━━━━━━━━━━━━━━━━━━━━━━━━━━━━━━━
Mobcoin & Spawner Generators
Getting wealthy by doing nothing, isn't that the dream!? These brand new generators allow you to gain mobcoins and spawners just by staying online! With a user friendly claiming system and upgrading system, this is a wonderful way to get started.
You can obtain these generators from crates (both free and paid keys)!
Generator Preview
━━━━━━━━━━━━━━━━━━━━━━━━━━━━━━━━━━━━━━━━━━━━━━━━━━━━━
Island Nether Beacons
Let's face it... the Nether Realm update was a hit, and we've received tons of positive feedback on it last season! However, we aren't done yet, and we strive to improve everything we can. This brand new beacon feature for Nether Realms allows you to get buffs to help you kill extra mobs and grind faster!
To access this panel, use the command /is nether and click on the beacon towards the right of the GUI.
Levels
There are 5 levels that allow you to either obtain a new booster to upgrade or a new effect that you can use.
Levels Preview
Boosters
You are able to upgrade between 4 different unique boosters: Sell, mobcoin, xp, and tickets!
Boosters Preview
Effects
For the beacon effect, you have 3 options to choose from: Speed + Haste, Speed + Regeneration, and Strength + Haste, but take notice, you can only have 1 of these effects active! Make sure to choose wisely, but you can change them at any time.
Effects Preview
━━━━━━━━━━━━━━━━━━━━━━━━━━━━━━━━━━━━━━━━━━━━━━━━━━━━━
Blackmarket Update
The blackmarket has been around for a while and generally gets some small changes each season, but we have decided to completely revamp how it works. There is now a unique "pyramid" rarity system. Each time the blackmarket appears, the items will be cycled through and it will have: 1 Legendary Item, 2 Rare Items, and 3 Common Items!
Blackmarket Preview
━━━━━━━━━━━━━━━━━━━━━━━━━━━━━━━━━━━━━━━━━━━━━━━━━━━━━
Other Changes
•
MYTHICAL CHEST NERF: Multiplier for Mythical chests has been decreased from x5 to x2
•
Join Messages: You can now toggle your join messages if you are either Patron or CDirector
•
Chat Games:
Chat games have been revamped with the newer version we already on Prison, yielding Ticket rewards
•
Outpost:
Outpost has been added, just like on Prison but with Islands instead of Gangs
•
Mobcoin Notes: You can now withdraw mobcoins like money notes
•
Ore Hopper: Similar to crop hoppers, but for ores
•
Vote Reward: You now gain 1 hour of /shop command access per vote
•
Shorthand Numbers: You can now use /pay BigCDG 1k, /pay BigCDG 1m, etc. on all payment commands
•
Shop Additions: Colored wool has been added to the shop
•
Fixed Bugs: Too many to list!
​
Last edited by a moderator: