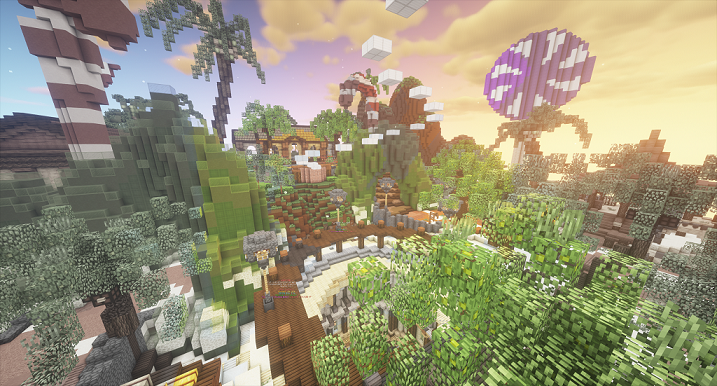 CANDYCORN PRISON FINAL SEASON @ TUESDAY 2PM EST
CLICK HERE - COUNTDOWN
Hey everyone! On behalf of the OPB Team, we are excited to release the newest and final Candycorn season!
This brand new season was carefully beta tested by the most dedicated members of our community and should be a much smoother release than usual! We have put countless hours of owner, admin, staff, and developer work to produce this season and hope you all enjoy playing it as much as we enjoyed creating it. As always, please share all ideas and suggestions that you have with the Admin Team through DMs or the suggestions channel on our Discord!
As stated above this will be the
final season of Candycorn Prison
! We are aiming for a
shorter 60 day season
with this map, and as such we plan to double the competitive rewards for Top Blocks Mined and Gang Top. At the end of this season any permanent donor perks you've purchased (ranks, titles, commands, etc) will be transferred over to the Milkyway Prison server and we will merge them into one singular Prison. This will make consistently advertising and developing great features much easier for us!
Note:
If you already have a rank or perks on Milkyway that would be pointless to merge, you will receive a Gift Card for the rank or perks you had on Candycorn after this season ends.
Speaking of advertisement -
Jerome will be joining us
for this final season of Candycorn Prison!
Now... let's get to the brand new features!
━━━━━━━━━━━━━━━━━━━━━━━━━━━━━━━━━━━━━━━━━━━━━━━━━━━━━
PMine Structures
There are now structures in your PMine! Each structure has a different task and you can find them scattered across your PMine! Below is a list of each structure explained with detail.
Ore Chunks
Ore Chunks can be found as an unlockable structure in your Pmine and will help you earn some extra eTokens or Beacons! With two different blocks to mine, Magma Blocks give eTokens, and Prismarine Blocks give beacons! All you have to do is mine them and the blocks will automatically regenerate.
Prestige Servants
The
servants you obtain from Prestige levels
are now placed alongside your mine in a uniformed manner! This allows you to see all the servants you can potentially unlock just from reaching higher Prestige levels. Regular plot servants are still in the game and obtainable via Servant Crate keys like usual.
Beacon Station
This structure
passively collects beacons for you
! Long gone are the days of slowly mining for beacons... with this structure you can obtain them with ease, but make sure to upgrade it to unlock its full potential! This is meant to be used when you are AFK for long periods of time.
Candy Factory + Refinery
Your Candy Factory is now in your PMine, you no longer have to place it at your plot - this feature is explained in-depth in the "Candy Revamp" section. Factories have been reverted to the older version and improved, and the Jelly Bean system + Candy Vault has been removed.
Drills and Crystals
Drills are a brand new item which are unlocked by doing quests and are upgradable, used to mine the Crystal structure at your PMine! Mining a crystal takes time, but reveals great eToken and Pickaxe XP rewards!
━━━━━━━━━━━━━━━━━━━━━━━━━━━━━━━━━━━━━━━━━━━━━━━━━━━━━
Prestige Revamp
The A-Z rank system has been completely removed and replaced with Prestige Quests! Each Prestige now has
10 quests
which have different tasks and cost
money to unlock
! Once you complete all 10, you can prestige which still has normal
beacons cost
!
You can find these quests with
/quests OR visiting Criminal Johnson in your PMine
!
━━━━━━━━━━━━━━━━━━━━━━━━━━━━━━━━━━━━━━━━━━━━━━━━━━━━━
Pet Revamp
"Inventory" Pets have been completely removed and replaced with brand new Pets obtainable through Pet Eggs! These pets can be accessed using
/pets
and have tons of new features: Instead of placing pets in your inventory, they will be placed in your
Pet Cage...
which means you can have multiple pets activated at once if you upgrade your slots!
You can receive Pet Eggs from quests, keys, and randomly find them while mining.
Pets now have rarities, and to upgrade a pet's rarity you combine it with a pet of the same type and rarity.
Have fun and make sure to name them, after all, they are your pets!
━━━━━━━━━━━━━━━━━━━━━━━━━━━━━━━━━━━━━━━━━━━━━━━━━━━━━
Candy Revamp
Candies have been refreshed with new candies and a brand new structure - refineries! You might recognize this from older versions because we decided to bring it back! Refineries automatically upgrade your candy and are a great tool to be used. Your Factory and Refinery can be found in your PMine, and you can upgrade both to maximize candy production!
━━━━━━━━━━━━━━━━━━━━━━━━━━━━━━━━━━━━━━━━━━━━━━━━━━━━━
Pickaxe Changes
Pickaxes now have a simpler but more rewarding leveling system! Mine blocks to level up your Pickaxe, and each new level unlocks higher enchant limits! Custom enchants no longer have a level limit and are theoretically infinite! Pickaxe Prestige levelsand crystal shards have been removed.
1 Physical Block Break = 1 XP
100 Enchant Block Breaks = 1 XP
With this new system players will be rewarded for high level custom enchants like Explosive, Jackhammer, Drill, and Laser in the late game.
View the best pickaxes on the server with a new Top Pickaxes category on
/leaderboards
━━━━━━━━━━━━━━━━━━━━━━━━━━━━━━━━━━━━━━━━━━━━━━━━━━━━━
Other Changes
•
Features Carried Over:
All features from other servers that apply to Candycorn have been moved over
•
PvP Clusters:
PvP Clusters have been removed
•
Beacon pouches and Beacon transfer limits
have been removed
•
Donor Mines:
Donor Mines have been completely removed and replaced with a new system that boosts donors PMine Quality Level. Donors will receive a permission based bonus (basically an additional sell multi) at the beginning of the season. Also, this allows donors to reach a Quality level beyond the maximum level of 100.
• Gang Blocks Broken:
You now get 1 Gang Score for every 80,000 blocks mined with enchants + 1 Gang Score for every 800 blocks mined physically, meaning that late game high level custom enchants will be the best way to earn Gang Score + Pickaxe XP
•
Fixed Bugs:
Too many to list!​
Last edited by a moderator: