Hello everyone, I was bored, and I thought since the last texture pack update for opblocks was in 2019 and doesn't account for any of the new candies and consists of obsolete textures as well, I decided to go ahead and update the pack for the 2021 version of OPBlocks!
New Textures:
Magic Gum
Life Savers
Sour Patch
Gummy Bears
Starburst
Gobstopper
Atomic Warheads
Fizz Wizz
Jaw Smasherz
Jelly Beans
Jolly Ranchers (well, not new, but changed filename so that it applies to the correct item)
Here's an example image: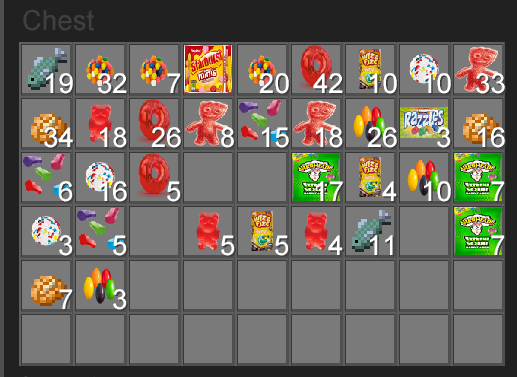 Removed Textures:
Candy "crops"
Candy factories and refineries
Old candy that doesn't exist anymore
Sounds neat, right? Well pick yourself up a download at
this link right here!
(keep in mind this is unofficial and the work of a bored pig so don't expect super high quality lol)
*Also pssst
@BasiliskHill
if you'd uhh add this file to the OFFICIAL resource pack thread that'd be real neat, thanks :3*
*also if
@BasiliskHill
doesn't have perms to update that thread anymore, well
@BigCDG
thats your job*
Last edited: