Welcome to OPBlocks!
Hey there guest, and welcome to our forums! You can choose to join our community by clicking the register button below. This opens the ability to talk with other members, discuss your favourite topics and more!
Hey everyone!
I'd like to start this thread off by letting you all know that this saturday (11/11/2017) will be the first 2x Sell Booster Event!
This means that you will receive 2x as much in-game money when selling throughout saturday, which will help everyone rank up much faster
I will also be hosting a drop party on Sunday (11/12/2017) at 4 PM EST.
We may also be hosting the very first Last Man Standing event on Sunday as well, more information on that coming soon
With that out of the way, here's a list of the new things we've added to our store.


Auto Sell Command
-
Located Here
You can now purchase the command
/autosell
.
When enabled, this command will automatically sell the blocks you mine to the vendor closest to you.
So for example, you do /autosell to toggle auto-selling. Once it's toggled, everything you mine will be instantly sold.

Rename Command
-...
​
Hey everyone!
As I hope all of you know, Halloween is just around the corner
To celebrate, we have added the exclusive Spooky Bundle to our store!
Click here
to check it out
Be sure to take advantage of our
65% off
sale that ends this Friday.
I'd also like to use this thread to inform you all that
MrCrainer
is beginning a new series of OPBlocks on his channel starting on October 27th!
We are going to have a massive drop party on October 29th at 4 PM EST to celebrate
Hope to see everyone online this weekend! Thanks for your continuous support.
The rewards you get from reaching blocks broken milestones has been buffed. Click here to view the new reward list.
The rewards you get from reaching a new prestige have been drastically buffed. Click here to view the new reward list.

The physical shop has been removed, you can now only use /shop.

End Stone, Podsol & Slimeballs have been added to the shop.

A confirmation menu will now appear when you type /ci or /clearinventory.

Chunky Keys now cost 3000 ETokens in the Black...
Hey everyone!
Just wanted to inform you all that
@loganb1max
and I have began development of OPBlocks V5.
We already have document that is nearly 8 pages long (made by the staff) to work on, but we want to be sure that the community is heard as well.
So please feel free to reply with things you'd like to see added, removed or changed.
Be descriptive with anything brand new you'd like to see added please
We are expecting V5 to be released early October, but no release date has been set at this time.
Thanks!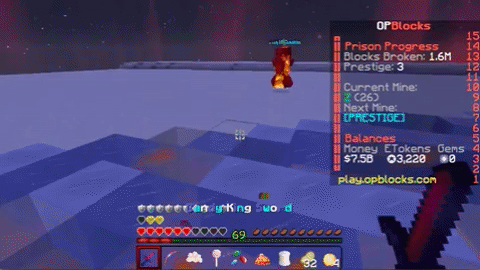 ​
Hey everyone! Here is a little update that I hope you all will enjoy!
Gang Fights
Gang fights have now been added!
You can have a gang fight between 2-5 players from each gang. The minimum fee per fight is $500k and it is withdrawn from your gang balance. With these gang fights, you must bring your own items which means candies and such can be used in the fights. But, you will also lose your inventories if you die. The winning gang members that are alive will be given 15 second to loot at the end.
To challenge another gang, you must use
/fight challenge <players amount> <money> <gang>
. Only the officers and owner can challenge other gangs. The other gang must accept the fight by doing
/fight accept <gang>
or deny the fight by doing
/fight decline <gang>
. If the fight is accepted, all players who are participating must do
/fight join
. Players will be teleported to the newly made gang fight arenas....
Hey there, just doing a little update on the things that have been fixed/added.
/bp, /pets, /trade can no longer be used in pvp.
Fire spread, lava flow, and pistons have been disabled in freeworld to prevent griefing.
Nether boss can now be hit anywhere, including inside the boss platform.
Nether portals are no longer able to be made in the nether.
New nether spawn has been added.
Beds can no longer be used to grief the nether.
/warp help has been added. It is located in front of the spawn bulletin board.
Tier 3 Laffy Taffy skeletons will now shoot which will bounce other players away.
Gobbler ladders were added back.
The duel arena with bone blocks has been fixed.
Hope everyone enjoy the changes.
-Mochi
Hey guys, just would like to apologize for missing the scheduled drop party today.
But I'll make it up to you all (I know everyone was pretty upset about it)
I'm going to post a thread about this one, to make sure everyone knows, there will be a
big
drop party on Wednesday
(7/5/2017)
.
There will be ranks, keys, tokens, kits, money, and much more dropped. Probably the biggest DP since the beginning of V4.
The drop party will start at
3 PM EST
, and I hope everyone makes it.
The more people online, the more stuff I'll drop
Consider this drop party an apology for the file issue that happened a few days ago aswell.
PS:
I posted the build competition winners on the Nether Expansion update thread, if you were wondering who won.
Hey everyone!
Sorry for how long this update took, but for the most part it's done & I'm excited to tell you all about it
Nether Free World
The highly requested Nether free world has finally been added!
You need to be at-least
prestige 3
to access the nether free world. Use
/warp nether
or just go through an ordinary nether portal to access the new world.

You can also purchase instant access to the nether free world on our store to bypass the prestige 3 requirement. Click here to view the package.


Nether Boss
The Nether Boss is a iron golem that spawns in the nether world every 4 hours.
This boss has a ton of health, and hurts pretty bad when it hits you. Killing this boss will be a group effort, and everyone that participates and contributes to its death will receive a...
PREFACE:
Just wanted to apologize. I know that I mentioned that there would be an update this weekend, but unfortunately
@loganb1max
has been busy with another project throughout this week. Expect this update fairly soon.
Hey guys, I've decided to host another build competition
The theme is Summer.
The competition ends on June 30th at midnight. (EST)
All builds must be on your plot, no freeworld builds.
The builds will be judged by staff.
Post on this thread saying "I'd like to enter" to be entered in the competition
The prizes for the winners of this competition are:
$50 Store Giftcard
$25 Store Giftcard
$10 Store Giftcard
REMEMBER:
TO BE OFFICIALLY ENTERED, YOU MUST COMMENT "I'd like to enter" ON THIS THREAD.
Donor Lucky Blocks Addition
Hey everyone, after nearly a month of waiting for our developer to finally finish donor lucky blocks, we decided to have him stop working on it - and have now found a new developer.
Our new developer did this task in 3 hours...
So donor lucky blocks are now added, here are the prizes with their respective chances:
2 ETokens - 50%
3 ETokens - 20%
5 ETokens - 15%
10 ETokens - 10%
30 ETokens - 5%
100 ETokens - 1%
These are the only prizes you can get from lucky blocks in any donor mine.
Suggestions
I am also going to be using this thread for suggestions. Now that we have a competent full time developer working for OPBlocks, we can continuously push out new content & updates for everyone to enjoy.
So please reply to this thread with any suggestions you may have for new updates & additions.
Small Change Log
/rename has been removed from the...