Welcome to OPBlocks!
Hey there guest, and welcome to our forums! You can choose to join our community by clicking the register button below. This opens the ability to talk with other members, discuss your favourite topics and more!

​
Hey everyone!
I just wanted to properly let everyone know that the
65% off Christmas sale
has officially begun!
The
sales
will run until December 25th at Midnight EST.
I'd also like to let everyone know that we have added
The Christmas Bundle
to the store.
This bundle gives you the following things
every month
:
Access to the Winter title.
Access to the Christmas title.
Access to the Gingerbread title.
Access to the Snowman pet.
Permanent instant access to the nether free world.
Receive 5x Chunky Chest Keys upon purchase.
Receive 20x Chocolate Bar candies upon purchase.
Receive 20x Jelly Bean candies upon purchase.
Receive 10x Hershey Hurricane mine bombs upon purchase
Receive the limited edition Christmas kit that contains the following items:

Diamond Armor | Protection 23, Unbreaking 23
Diamond Sword | Sharpness 18, Fire Aspect 18, Unbreaking...
Hey everyone!
We have finally released the long awaited missions update, and I'm going to explain how it all works in this thread.
I'm also going to list off a few other smaller updates that we applied
Missions
Missions are basically daily jobs that you can come online to do, and in return for doing these jobs, you will be compensated with cratekeys, money, etokens, etc..
Every 24 hours, you can do 5 missions. To see what missions you have for the day, simply do
/missions
in-game, or look for the Missions NPC at spawn.
When you type
/missions
, the following menu will appear:
Simply click on the "Start A Mission" button to see what missions you'll get for the day.
Once you've clicked "Start A Mission" a clock will count down from 24 hours. After those 24 hours are up, you will receive 5 new missions.
Now that you've started your missions for the day, you will see a new menu that looks like this:...
Hey everyone!
Just thought I should formally let everyone know that we just added the
Winter Chest
to the store.
The winter chest is an unlockable chest that gives you 10 random rewards from it.
The rarest thing you can obtain from this chest is the
Winter Rank
.
This rank gives you the following prefix:
The rank also gives you access to the Winter kit, which is even more OP than Candy King.
Here is a full list of the rewards you can get from the
Winter Chest
:
This chest will only be available until December 31st, and will not come back until next December.
If you would like to purchase a Winter Chest, feel free to
click here
to check it out.
On a side note, we have also released the
Snowman Title
.
To obtain this title, all you need to do is purchase something from our store, and you get it automatically for free. This...
Hey everyone!
The long awaited custom enchant expansion has finally been released!
We have added a total of 24 new custom enchants for Armor & Weapons, and I will be listing all of them on this thread.
I will also be talking about our plans for Thanksgiving on OPBlocks, and a few new store additions later on this announcement.
ARMOR ENCHANTS
Agility
Allows you to run faster.
Max Level: 3
Angelic
Chance to gain health when someone attacks you.
Max Level: 4
Blessed
Gives you extra hearts.
Max Level: 5
Burst
Display Item:
Chance to knock nearby players away from you.
Max Level: 2
Evasion
Chance to cancel any damage you take.
Max Level: 4
Ice Aspect
Chance to slow your opponent when they attack you.
Max Level: 4
Illuminate
Gives you permanent night vision.
Max Level: 1
Inferno Blast
Chance to set the players around you on fire.
Max Level: 4
Molten
Gives you permanent fire resistance.
Max Level: 1...
Hey everyone!
I'd like to start this thread off by letting you all know that this saturday (11/11/2017) will be the first 2x Sell Booster Event!
This means that you will receive 2x as much in-game money when selling throughout saturday, which will help everyone rank up much faster
I will also be hosting a drop party on Sunday (11/12/2017) at 4 PM EST.
We may also be hosting the very first Last Man Standing event on Sunday as well, more information on that coming soon
With that out of the way, here's a list of the new things we've added to our store.


Auto Sell Command
-
Located Here
You can now purchase the command
/autosell
.
When enabled, this command will automatically sell the blocks you mine to the vendor closest to you.
So for example, you do /autosell to toggle auto-selling. Once it's toggled, everything you mine will be instantly sold.

Rename Command
-...
​
Hey everyone!
As I hope all of you know, Halloween is just around the corner
To celebrate, we have added the exclusive Spooky Bundle to our store!
Click here
to check it out
Be sure to take advantage of our
65% off
sale that ends this Friday.
I'd also like to use this thread to inform you all that
MrCrainer
is beginning a new series of OPBlocks on his channel starting on October 27th!
We are going to have a massive drop party on October 29th at 4 PM EST to celebrate
Hope to see everyone online this weekend! Thanks for your continuous support.
The rewards you get from reaching blocks broken milestones has been buffed. Click here to view the new reward list.
The rewards you get from reaching a new prestige have been drastically buffed. Click here to view the new reward list.

The physical shop has been removed, you can now only use /shop.

End Stone, Podsol & Slimeballs have been added to the shop.

A confirmation menu will now appear when you type /ci or /clearinventory.

Chunky Keys now cost 3000 ETokens in the Black...
Hey everyone!
Just wanted to inform you all that
@loganb1max
and I have began development of OPBlocks V5.
We already have document that is nearly 8 pages long (made by the staff) to work on, but we want to be sure that the community is heard as well.
So please feel free to reply with things you'd like to see added, removed or changed.
Be descriptive with anything brand new you'd like to see added please
We are expecting V5 to be released early October, but no release date has been set at this time.
Thanks!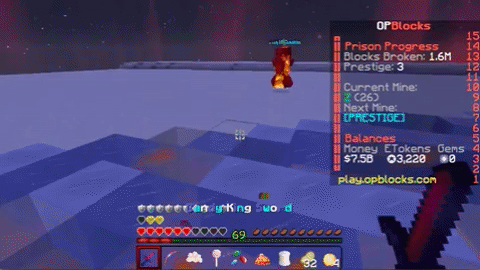 ​
Hey everyone! Here is a little update that I hope you all will enjoy!
Gang Fights
Gang fights have now been added!
You can have a gang fight between 2-5 players from each gang. The minimum fee per fight is $500k and it is withdrawn from your gang balance. With these gang fights, you must bring your own items which means candies and such can be used in the fights. But, you will also lose your inventories if you die. The winning gang members that are alive will be given 15 second to loot at the end.
To challenge another gang, you must use
/fight challenge <players amount> <money> <gang>
. Only the officers and owner can challenge other gangs. The other gang must accept the fight by doing
/fight accept <gang>
or deny the fight by doing
/fight decline <gang>
. If the fight is accepted, all players who are participating must do
/fight join
. Players will be teleported to the newly made gang fight arenas....
Hey there, just doing a little update on the things that have been fixed/added.
/bp, /pets, /trade can no longer be used in pvp.
Fire spread, lava flow, and pistons have been disabled in freeworld to prevent griefing.
Nether boss can now be hit anywhere, including inside the boss platform.
Nether portals are no longer able to be made in the nether.
New nether spawn has been added.
Beds can no longer be used to grief the nether.
/warp help has been added. It is located in front of the spawn bulletin board.
Tier 3 Laffy Taffy skeletons will now shoot which will bounce other players away.
Gobbler ladders were added back.
The duel arena with bone blocks has been fixed.
Hope everyone enjoy the changes.
-Mochi