Welcome to OPBlocks!
Hey there guest, and welcome to our forums! You can choose to join our community by clicking the register button below. This opens the ability to talk with other members, discuss your favourite topics and more!
Hi everyone,
I'm very excited today to announce the reset of
OPBlocks v9
, which will be releasing on our network this Wednesday at
3PM EST / 9PM CEST
. This release includes a variety of impactful changes, which will be covered in this post. Check out the information below.
For a countdown which adapts to your own time zone, please
click here
.
Reset Information
As with every reset, all server progress will be set back to zero. You will lose your current stats, balances and inventories to make place for a new season of Prison. Ranks and perks will be kept, and won't be changed during this reset. Any consumables which you may have purchased up to 7 days before the reset will be reimbursed automatically once you login. Players will also keep their won cosmetics and multipliers.
OPBlocks will both go offline 12 hours before the reset (Wednesday at 3AM EST / 9AM CEST) to prepare the network...
​
Staff vs. Players

Saturday, June 1st at 5:30 P.M.
Hey everyone, we plan on hosting our next Staff vs. Players event! This event will take place tomorrow at 5:30 P.M. EST, below you can find more information on this spectacular event!

This time, the event will be hosted differently, you will be limited to the kit below, it will take place on our new event server, upon killing a staff member it will display a title on your screen showing who was killed by who and will only work with staff.

You also will be able to kill staff members continuously but there will be a 30 Minute timer and the prizes will be awarded to those with the most staff kills. Lastly, a huge addition is you will not be able to hit your own team, only the staff members.

Full Diamond Protection 4 Unbreaking 10
Diamond Sharpness 1 unbreaking 10
Normal Bow
128 Arrows
2...​
Hi everyone,

We're back with another update this week, as we have deployed some new content on the server for you guys to enjoy! This time we'll be discussing the addition of Inventory Critters and Gang Fights, both which are now available on the server. Let's get started...
Inventory Critters
We have completely updated our old Critters feature, and revamped them as Inventory Critters. Once obtained, these items give you a special effect for the time that it is placed inside of your inventory. Each Critter has its own unique ability and is automatically upgraded over time with the use of an XP system. The higher the level, the stronger the effect.
Critters are available on our store, and come in a variety the following variants:
Lucky Critter: Get a chance at receiving double drops whilst mining.
Protection Critter: Increase the durability of the items in your inventory.

Bow Critter: Get a chance of doing more damage with your...
​
Build Competition

NOW - Saturday, May 18th at 5:30 P.M.
Hey everyone, we plan on hosting our next Build Competition! This event is officially LIVE right now and will last a week. Judging will be done over the following day after the event has finished and the winners will be announced within 24 hours!
THEME: Futuristic

Few ideas are modern technology, modern infrastructure, or even predictions for the near future of the world! But you are not at all limited to this, show off your creativity and drag on your imagination as much as you desire! Please note, your build must be appropriate to the theme or they will be skipped. Copying or use of plagiarism will not be tolerated and could possibly result and not being allowed to join future events.
SIGN-UP HERE:
https://forms.gle/qNssenoFzE7jbUdf7
You are...​
Hey everyone,

Welcome to update #1. From today onwards, we will be providing you with frequent update posts covering the latest developments on OPBlocks! In this post, I'd like to highlight some of the recent changes that we have made to the network. Let's get started...

Refineries
Candy refineries are now available on the server! This feature was originally scheduled to come out right along the server release, however as we were running into some unforeseen issues, we decided to release it when everything was 100% stable. Now, everybody can claim their own refinery and use it to upgrade their candy! To claim one for free, simply type /refinery in the chat and place the item down on your plot. Confirm it, and you are now ready to start upgrading candy!

Remember that each candy type has four different tiers: raw, refined, tasty and delicious. Raw candies drop from candy farms and cannot be eaten, they must first be upgraded using a refinery! The higher a...
Hi everyone,

Hope you are all enjoying your easter weekend!
To celebrate this festive event, we are hosting a sale on our store today!

From now until 11:59PM EST, all items on store.opblocks.com are 60% OFF!
This is a one-day sale ONLY, which will end at midnight EST!
(April 21st)
Act quick!
Thanks,
Jesse
(P.S. Big update post coming soon!)
Update: Let us know how we're doing by submitting feedback straight to our devs!
https://forms.gle/6AoR3D87GFW8ah4X7
Hi everyone,
I am very excited to surprise you all with the launch of OPBlocks V8. Over the course of the last two months, our team has been working extremely hard on bringing you a unique new Prison experience - and we cannot wait to show you what we have been in store!
In this post, we will be sharing all the ins and outs of today's reset - so you can jump right in and play our brand new server, along with all other members of the community. Let's get started!
Reset Information
First and foremost, we will cover some of the essentials on this reset. Different from previous resets, is that we have rebuilt OPBlocks from the ground up. This means that we are not taking any of the previous setups and "improving" them. We have re-written everything. It's the first time this has happened since the start of the server.
Our new server is...
Hi everyone,

Welcome to Revamp Update #2. We're making great progress on the re-creation of the network, and wanted to share a quick new update on a feature that will be released alongside our launch.

Daily Challenges
We are completely re-working the current Missions and Quest Books systems and pushing it into one big feature labeled "Daily Challenges". Through Daily Challenges, people will be able to complete a set of unique challenges for every day they log onto the server.

Challenges can be started by visiting the Daily Challenges NPC at server spawn. Each player will receive a set of 5 random challenges, which vary in difficulty and type. The available difficulties range from easy to hard, and types go from player kills and block break, to candy farming and rankup challenges. Players get the opportunity to decide which difficulty of challenges they would like to complete for that day, however this can only be changed once every 24 hours.

For the first time...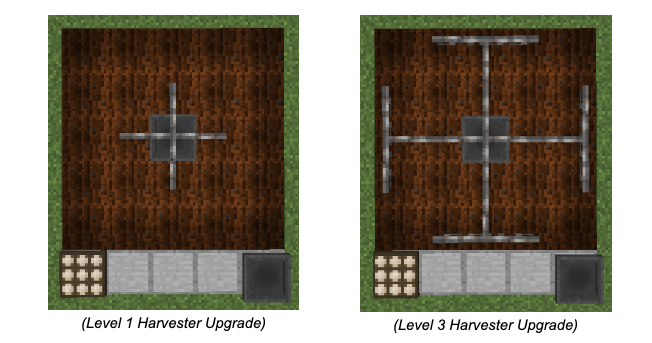 Hi everyone,

Welcome to Revamp Update #1. Our team is currently hard at work on realising a new network for OPBlocks, and we're very eager to show what we've been been up! We'll be sharing a behind the scenes look at the creation of some of our brand new features - in an attempt to receive feedback and to have you know our thoughts!

Today's update will be centered around our updated and completely refined Candies system. Let us know what you think in the comments below - we would love to hear your input!

Using Candies
Candies is the flagship feature of OPBlocks that is represented in our build style and branding. Because this is such an important feature, the network requires fun and meaningful candies that have a real purpose in the game. When we stepped in, we realised that the current offering of candies wasn't that exciting, and decided to re-write the system from the ground up. We are focusing on candies that have an actual effect on the player, as the current...
Hi everyone,

First of all, a short introduction. For those of you unfamiliar with me, my name is Jesse (or affixes), and I am the new Manager of OPBlocks. Me and my team of developers have been brought on board to blow new life into this server, and over the coming few weeks we will be making crucial changes that impact the future of it. With players in mind, we are creating an entirely new server for OPBlocks that is built from the ground up.

We realise that the network is not maintainable in its current state and have decided to shut all servers down immediately and until further notice, until more news is available regarding our upcoming updates. We are very passionate and driven to make this revamp a success.

Going forward, we'd like to work with you guys to understand what needs to change. We will soon open up a direct line of communication where you can submit feedback through a dedicated form. However for now, we would love to hear your thoughts through the...