Welcome to OPBlocks!
Hey there guest, and welcome to our forums! You can choose to join our community by clicking the register button below. This opens the ability to talk with other members, discuss your favourite topics and more!
Hi everyone,

Hope you are all enjoying your easter weekend!
To celebrate this festive event, we are hosting a sale on our store today!

From now until 11:59PM EST, all items on store.opblocks.com are 60% OFF!
This is a one-day sale ONLY, which will end at midnight EST!
(April 21st)
Act quick!
Thanks,
Jesse
(P.S. Big update post coming soon!)
Update: Let us know how we're doing by submitting feedback straight to our devs!
https://forms.gle/6AoR3D87GFW8ah4X7
Hi everyone,
I am very excited to surprise you all with the launch of OPBlocks V8. Over the course of the last two months, our team has been working extremely hard on bringing you a unique new Prison experience - and we cannot wait to show you what we have been in store!
In this post, we will be sharing all the ins and outs of today's reset - so you can jump right in and play our brand new server, along with all other members of the community. Let's get started!
Reset Information
First and foremost, we will cover some of the essentials on this reset. Different from previous resets, is that we have rebuilt OPBlocks from the ground up. This means that we are not taking any of the previous setups and "improving" them. We have re-written everything. It's the first time this has happened since the start of the server.
Our new server is...
Hi everyone,

Welcome to Revamp Update #2. We're making great progress on the re-creation of the network, and wanted to share a quick new update on a feature that will be released alongside our launch.

Daily Challenges
We are completely re-working the current Missions and Quest Books systems and pushing it into one big feature labeled "Daily Challenges". Through Daily Challenges, people will be able to complete a set of unique challenges for every day they log onto the server.

Challenges can be started by visiting the Daily Challenges NPC at server spawn. Each player will receive a set of 5 random challenges, which vary in difficulty and type. The available difficulties range from easy to hard, and types go from player kills and block break, to candy farming and rankup challenges. Players get the opportunity to decide which difficulty of challenges they would like to complete for that day, however this can only be changed once every 24 hours.

For the first time...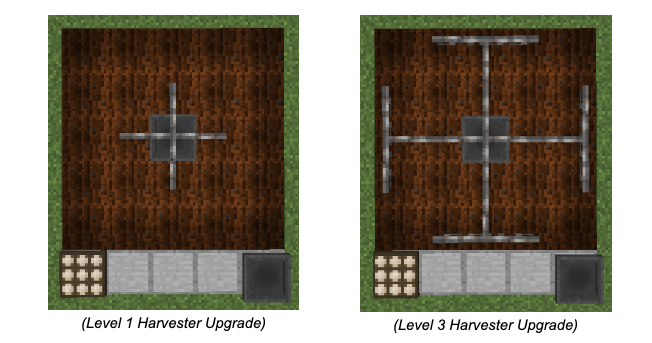 Hi everyone,

Welcome to Revamp Update #1. Our team is currently hard at work on realising a new network for OPBlocks, and we're very eager to show what we've been been up! We'll be sharing a behind the scenes look at the creation of some of our brand new features - in an attempt to receive feedback and to have you know our thoughts!

Today's update will be centered around our updated and completely refined Candies system. Let us know what you think in the comments below - we would love to hear your input!

Using Candies
Candies is the flagship feature of OPBlocks that is represented in our build style and branding. Because this is such an important feature, the network requires fun and meaningful candies that have a real purpose in the game. When we stepped in, we realised that the current offering of candies wasn't that exciting, and decided to re-write the system from the ground up. We are focusing on candies that have an actual effect on the player, as the current...
Hi everyone,

First of all, a short introduction. For those of you unfamiliar with me, my name is Jesse (or affixes), and I am the new Manager of OPBlocks. Me and my team of developers have been brought on board to blow new life into this server, and over the coming few weeks we will be making crucial changes that impact the future of it. With players in mind, we are creating an entirely new server for OPBlocks that is built from the ground up.

We realise that the network is not maintainable in its current state and have decided to shut all servers down immediately and until further notice, until more news is available regarding our upcoming updates. We are very passionate and driven to make this revamp a success.

Going forward, we'd like to work with you guys to understand what needs to change. We will soon open up a direct line of communication where you can submit feedback through a dedicated form. However for now, we would love to hear your thoughts through the...
Hey OPBlocks community,
It's clear to me that we have issues on the network. I want to get a list going and address the problems we have so we can correct them. With that being said, we're going to be fixing tons of bugs within the coming weeks.
If you have a suggestion of something you'd like to see added please reply below. If you're aware of a bug on the network that isn't patched please also reply below.
I'm working very closely with our developers and admins to get OPBlocks where it needs to be.
Thanks for your support, and I promise it'll be worth it.
Best,
Casey

​
Hey OPBlocks,
After months of planning and discussing with our administration and development team, we are proud to present our community with v7 of OPBlocks. We are confident that you'll find this release content packed including all the necessary features asked and desired by our community. Not only have we went ahead completely redone our store, but we will be releasing with a whopping
50%
global sale over @
https://store.opblocks.com/
.
Trailer Information

​
Uploading the trailer and achieving 100 views or more on the upload will go ahead and get you a Cookie Jar on the realm of your choice.
​
As you may have already noticed over in the OPBlocks
discord
, we are slowly but surely building up a team of content creators. For now, you can expect the...
​
Hey OPBlock Community,
It has been a while since we last spoken, however, do have hope, I have not forgotten about you. I'm proud to announce that finally, the time has come -
OPBlocks will be resetting
. Although this isn't the official release post, I do want to let you know that we will be whitelisting the server in preparation for the next chapter in OPBlocks legacy.
I hope this does excite you, but I thought I'd mention that OPBlocks will be releasing on
Saturday, December 8th.
Not only do I hope that you are thrilled, but I hope that you all are ready for OPBlocks to truly have a comeback, and take hold of what prisons should be.
Get ready for brand
new
content creators, weekly updates, new content, and a whole load of fun!
Once again, thank you for your utmost patience and respect, you truly are an amazing community.
Kind Regards,
Aoros | Casey
PS: If you're just as excited as our staff team is, leave a heart &...


​
Introduction
Dear OPBlocks community,
As many of you may already know I was brought onto the OPBlocks management team by
@trkey
. Personally, I've been in the talks of joining for a while now, and I'm really happy I did. Unfortunately, recent events have led
@Resilience
unable to keep up to date with the well being of the server. Already, I can see this community being something different. I've worked for plenty of networks ranging from all different types of game-modes so will have no problem in terms of experience, but for those of you who really want to know - Prison was my favorite.
Now, I understand that updates have been slow for the past month or so and I'd like to apologize on behalf of Res. I however, am here to ensure you that our future is brighter than ever. For those who've talked to me in-game you'll know that to be true. You'll know that my sole...
​
Introduction
Greetings!
Apologies for the massive delay between updates, however, certain development setbacks forced us to delay the content that we're about to release.
Crainer's latest video on the server can be found below, give it a watch if you're a fan of the series or wanting to learn more about OPBlocks game mechanics.
​
Prison
Here's our brief changelog from the past two weeks, view specific content updates in more detail below.
Restored refineries lost when we migrated hosts (more info on that below)
Fixed the issue where players were not getting rewards from voting
Fixed an issue where missions didn't reset for certain players
Fixed the lollipop farming mission which didn't properly register for certain players
Fixed the /boss command
Fixed an issue with the animal...